Blog
Ladies Shopping Trip & Zealong Tea
8 December 2017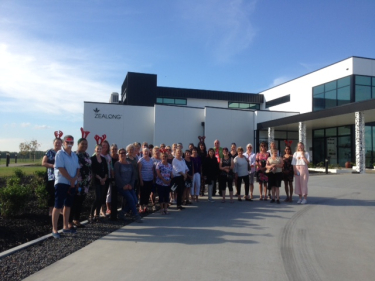 On Wednesday 6th December the Hume Pack-N-Cool better halves were invited for the traditional Christmas shopping trip by bus. This year we headed to "The Base" in Hamilton followed by High Tea at Zealong. Ladies donned their Christmas antlers, glass of champagne and clambered onto the bus in festive spirit. Guided by each other there was plenty of shopping to be had. Geoff our bus driver, ferrying parcels back to the bus throughout the day to keep our hands free for more shopping.
Three o'clock arrived so we all piled back onto the bus and headed to Zealong Tea Plantation for a guided tour and a High Tea party. The guided tour was very informative and enjoyable. Asian conical hats would have been appropriate as the heat of the sun was hard to escape. Once in the air conditioned pavilion, tea flowed and delicious morsels were shared. They have many teas, all organic and we were privilaged to try a selection of five. Following a couple of informative videos the tour ended in their new boutique tea shop where purchases were made of individual's favourites.
Thank you to Hume Pack-N-Cool for the expedition and thank you to Zealong Tea. Especially our guide, German who made it delightful and fun.