Blog
Winter Pruning
8 August 2017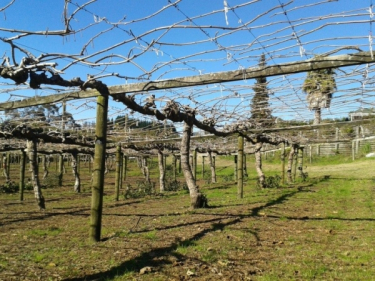 TARGETING GOOD BUDS
Winter pruning can be a stressful time as we all know. Battling against the elements to get the task completed to a high standard with good quality cane and good bud numbers can be difficult. Hopefully, this will help to inform you what type of cane you are after when winter pruning.
For Gold 3 and Hayward the objective is to evenly fill the bay with the best cane available with pregnant buds. Early grown cane that has spent the summer in the sunlight is preferably what we are after. It is typically a darker and smoother cane with pregnant buds and a close internode spacing. If these canes have fruit stalks from last season it means that they are "proven" canes and are guaranteed to fruit again.
Medium weight cane should be the target wherever possible as this type of wood typically has the best buds with a close internode spacing. Where needed it is good to leave in second year wood with nice spurs and good buds to help fill the bay. For Gold 3, 25-30 buds per m2 is a good start to ensuring that you have enough buds in the bay. With Hayward we are looking for 30-35 buds per m2 as the bud break percentage and flower number is typically less than Gold 3. For Gold 3 we want to tie down our canes no closer than 30cm apart as this can be tricky to deal with in the summer when canes are growing vigorously. With Hayward you can be a little more lenient to ensure we get enough buds in the bay, but 30cm apart is a good guideline to follow.
Winter pruning is very weather dependant so we know that this task can drag on a bit if we have had bad weather for a few days.So remember that when you can get into it, make sure you are selecting the best cane possible to give yourself the best chance at an evenly filled bay with nice pregnant buds and setting yourself up for a great crop!
For more information feel free to ring Humes on 07 5491011 or email any of our experienced orchard staff.