Blog
Full Steam Ahead in the Hume Pack-N-Cool Lab
20 February 2017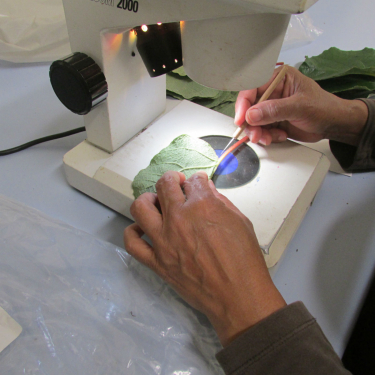 With only a few weeks before the start of harvest it's all hands on deck for Hume Pack-N-Cool's laboratory staff. Throughout the summer they have been putting in long hours checking orchards to comply with Zespri's Kiwigreen pest monitoring programme.
A typical day for our lab staff begins with the team travelling out to several of our orchards in the wider Bay of Plenty region. Each orchard has its own challenge whether it be hills, dogs, rabbit holes or farm animals.
The team tramp up and down the rows picking leaves and searching for caterpillars, thrips, passion vine hopper and cicadas. They are an energetic team and very important, as those pests can cause significant losses to fruit production if not found and removed. Timeliness is important, if pest populations explode the financial cost can be large.
The leaves are returned to the laboratory for inspection under microscope. The staff check these leaves for different species of armoured scale insect and determine if they're alive or dead. Some of these pests will define the market restrictions that are put on the fruit. With results quantified, specific spray recommendations are made stipulating the blocks and urgency of the spray.
This season, they are seeing an increased level of scale population due to the mild winter, dry conditions and wind. Most orchards are requiring a second round of monitoring and with fruit maturity testing having begun the pace for these guys is sure to continue.
If you need pest monitoring on your orchard look no further than Hume Pack-N-Cool's experienced in-house Lab: https://www.humepack.co.nz/in-house-laboratory